PIXEL PARADISE
Sebastian Mary Tay and Merryn Trevethan
"Pixel Paradise" explores how the acceleration of technological rhythm continues to alter our experiences with the physical world- changing our perceptions of our circumstances, both individually and collectively.
13- 21 May 2023 Free admission
OPENING: 13 May – 3-6pm with refreshment
Opening hours : Sat and Sun 1-6pm (close on public holiday)
Tue to Fri by appointments only [email protected]  
ARTIST TOURS: 14 and 21 May (3-4pm) BOOK here
"Pixel Paradise" is part of an ongoing collaboration between Merryn Trevethan (AU) and Sebastian Mary Tay (SG), grounded upon an exploration of an increasingly complex world and our place within it.  Pixel Paradise explores how the acceleration of technological rhythms continues to alter our experiences with the physical world- changing our perceptions of our circumstances, both individually and collectively.
"Pixel Paradise" incorporates both physical and digital mediums, ranging from moving image projections, wall drawings, and video works, layered to create a labyrinthian experience of contrary or opposing components, unified as a whole. The intention is to create a complex space constituting elements recognisable but experientially abstract and inexhaustible. By emphasising these dualistic qualities the exhibition hopes to express the manifold tendencies present in our culture today.
Merryn and Sebastian utilise a techno aesthetic of interruption, glitches and feedback loops that play on the uncertainty of our perceptions and speaks of the ever-increasing inability to separate the physical and the digital and to how evolving technologies are impacting our attention spans. The digital manipulation and other processes engaged by both artists results in a dislocation of the spatial. For the audience, there is a phenomenon of an oscillatory loop; space unifies, then breaks down, only to be pieced together again. This movement speaks to a state of in-betweenness; the metaxis, and our ever increasing desire to get lost in the labyrinthian structures of our own imagining.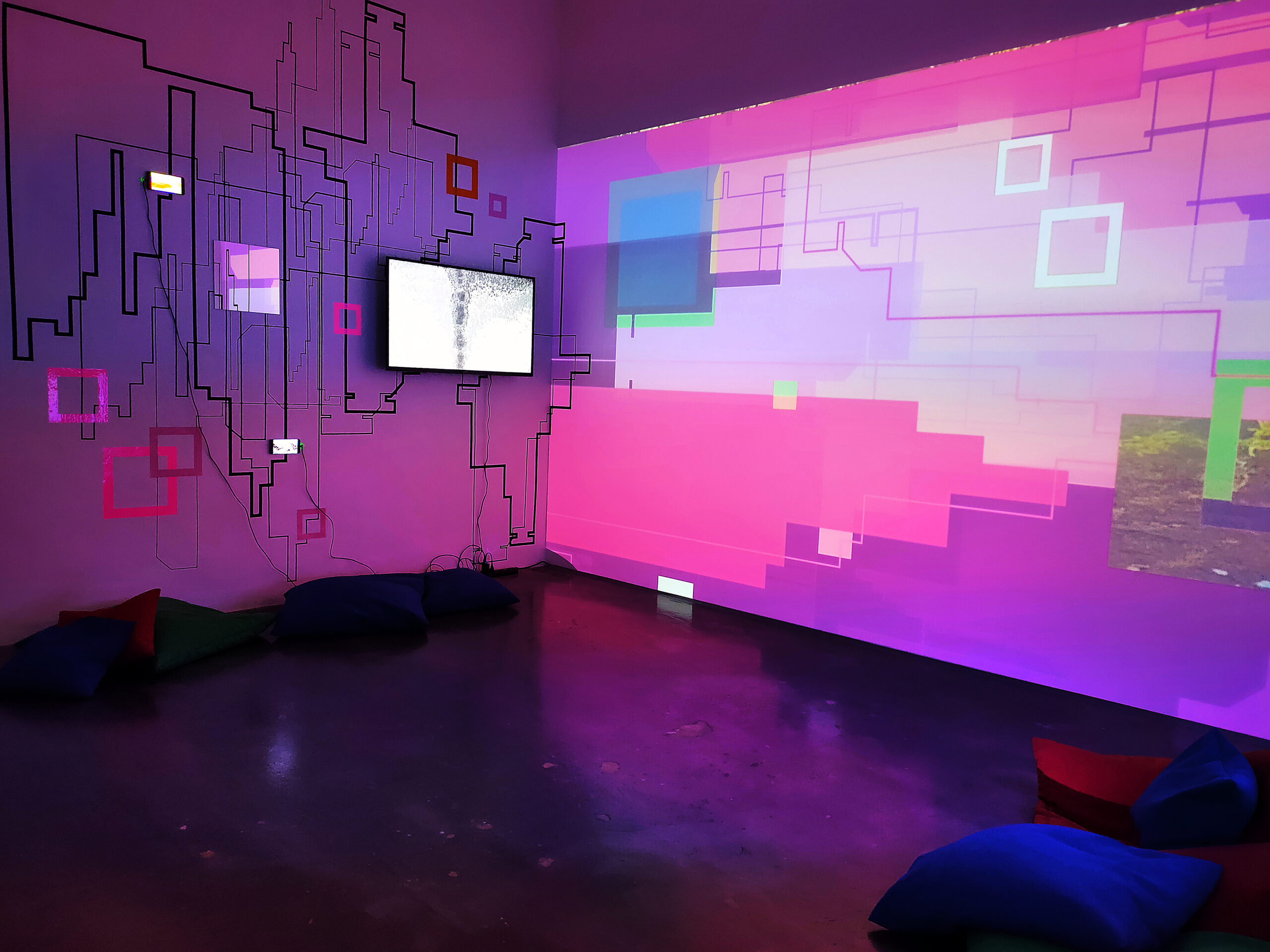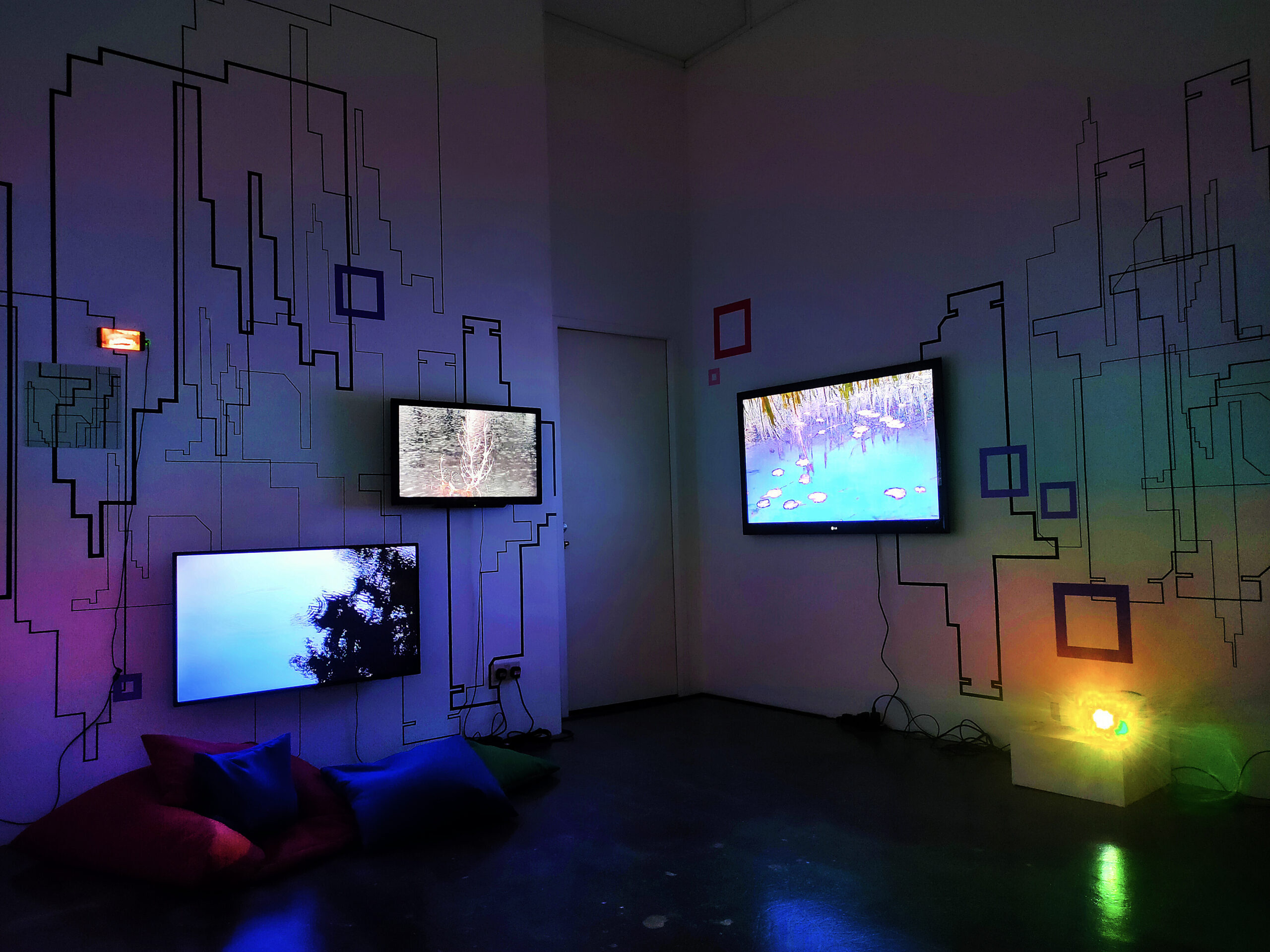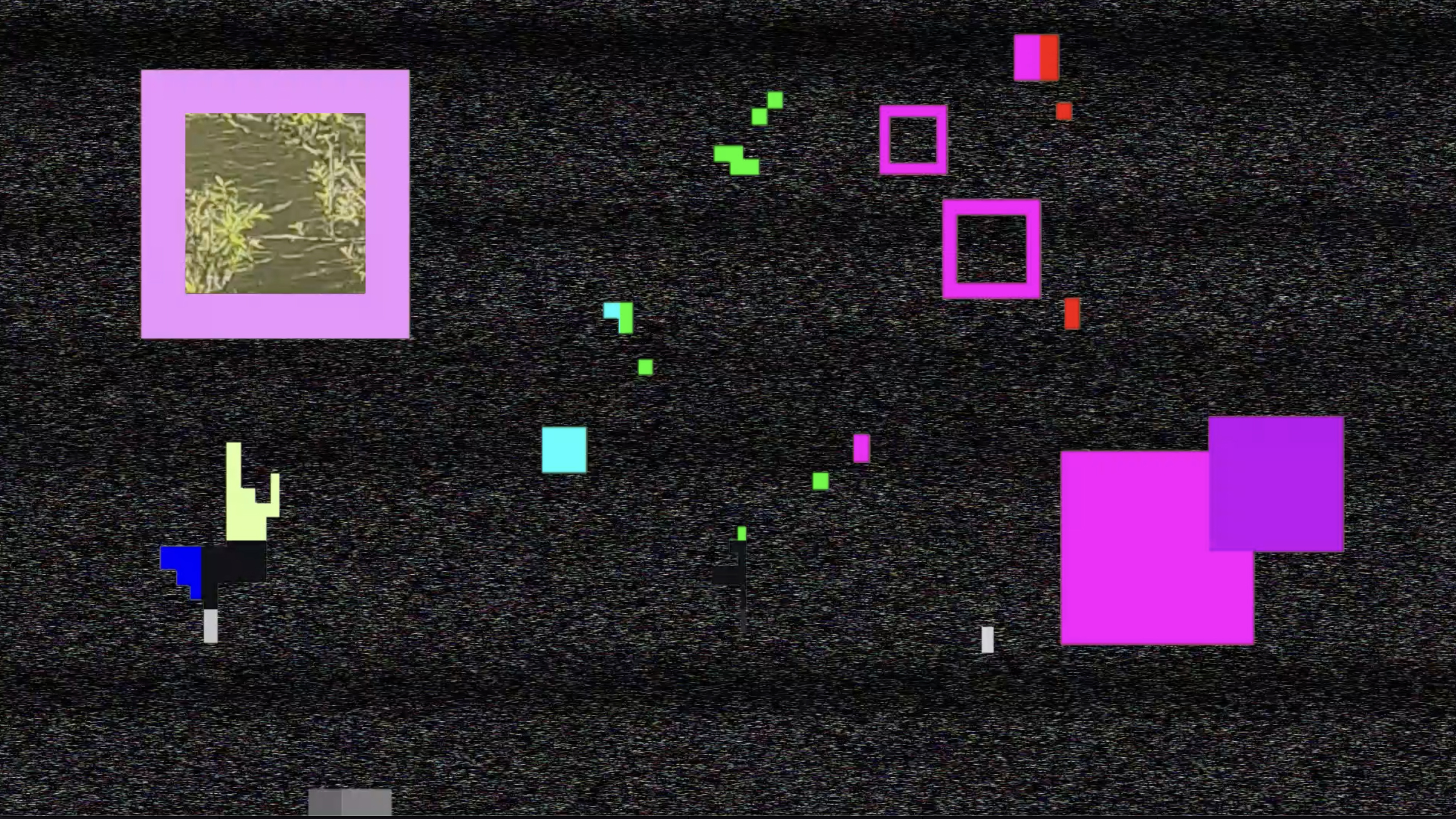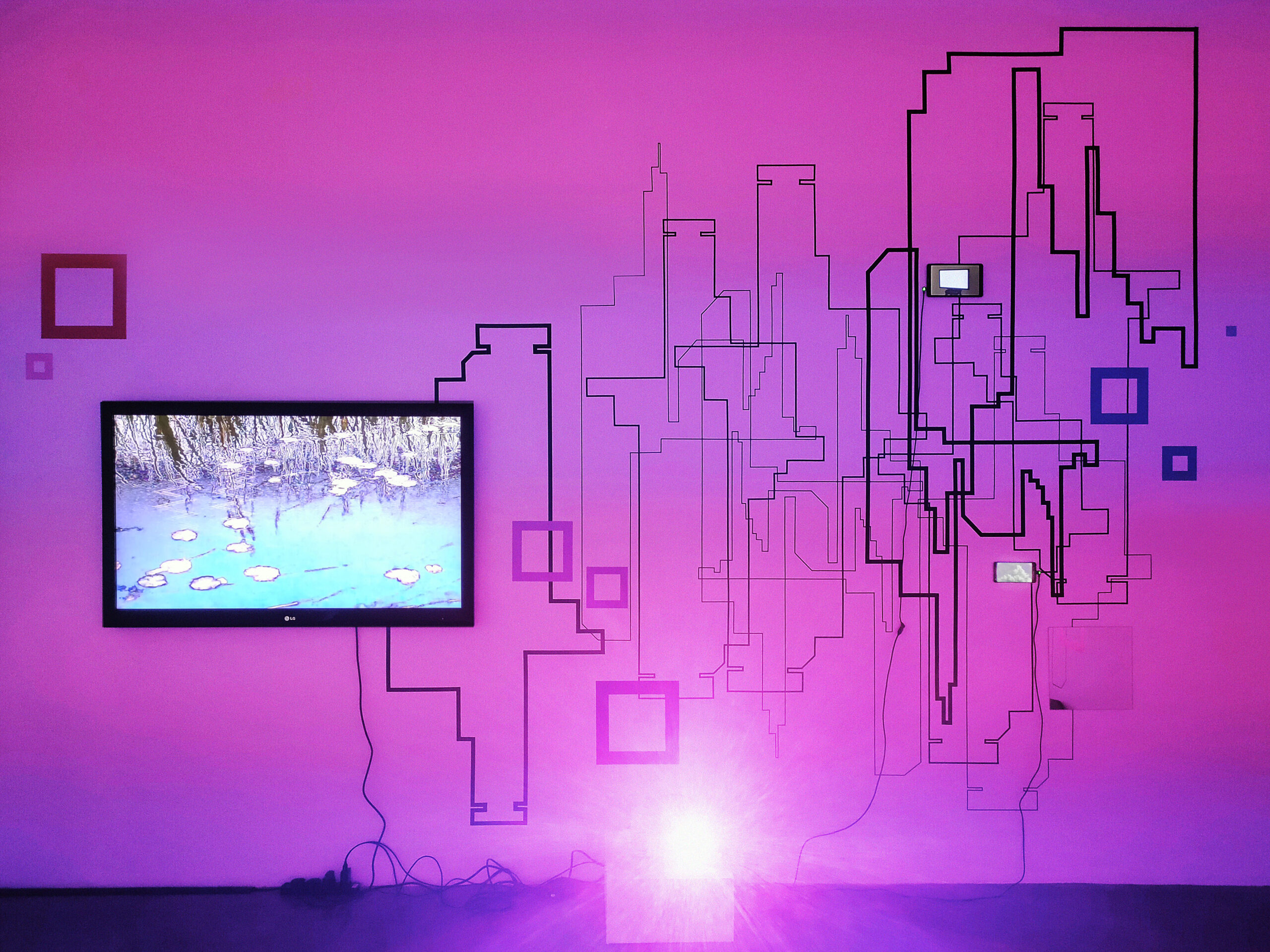 _______
MERRYN TREVETHAN
Merryn Trevethan is an Australian artist currently based in Hong Kong, relocating in February 2021 after 7 years in Singapore. Her abstracted, hyper- saturated artworks are inspired by the changing nature and structure of cities. She examines how we see, navigate and record our experiences of urban environments. Her paintings, drawings, murals and objects are often layered in site-responsive installations to reflect different modes of seeing, inviting viewers to relate to and be critical of our surroundings.
Merryn graduated with an MFA from Monash University, Melbourne (2005). Her installation "frequestly Lost" was recently features in Postmodern Tales a group exhibition curated by Vera Lam (HK), at H Queens, Hong Kong. Recent commissions include a site-specific mural for the Australian Theatre for Young People at their new premises on Pier 2, Sydney Harbour; a digital painting for Henderson Land, Hong Kong and cover artwork for Fran Swinn's new LP "Old Idea/New Idea". In Singapore, Merryn created murals for Facebook OpenArts program in 2020 and 2015. She was one of ten artists (and co-curator) of Bus.Stop.Art public art project, commissioned by National Arts Council for Singapore Art Week 2021. Key residencies include Golden Foundation Residency Program, New York (2018) and Red Gate International Artist Residency, Beijing, China (2009). She has held solo and group exhibitions in Australia, Singapore, USA and Hong Kong. Merryn has participated in public art festivals in Melbourne and Singapore, where in 2014 she was awarded first prize for DRIVE – Public Art Festival Open Call.
Curatorial projects include Bus.Stop.Art- a National Arts Council commissioned project for Singapore Art Week 2021, Rules of Engagement- a Public Square Programme, The Substation, Singapore (2019) and This Wild Song x Singapore celebrating International Women's Day at the Australian High Commission, Singapore (2018). She is currently a studio resident at HART HAUS Social Studio in Hong Kong.
SEBASTIAN MARY TAY
Sebastian Mary Tay SSA is an interdisciplinary artist and educator. He graduated from The Glasgow School of Art with Master of Research and Bachelor of Arts with Honours in Fine Art. Sebastian's works have been exhibited in the UK, USA, Lithuania, Singapore, Malaysia, Indonesia, Vietnam and China. Some exhibitions include 'Something Above; Somewhere Beyond' at FOST Gallery (solo exhibition, Singapore), 8th Singapore International Photography Festival (public installation, Singapore), Glasgow Open House Arts Festival (group exhibition, UK), Bus.Stop.Art (public installation, Singapore), 'Frame & Frequency' (group exhibition, USA), 'Sandstorm in an Hourglass' (group exhibition, Singapore), 'Utopia' (group exhibition, UK), and The Society of Scottish Artists annual exhibitions. Sebastian showed at The Royal Scottish Academy on multiple occasions; he also received the Royal Glasgow Institute prize and the Royal Scottish Academy Latimer Award. In 2020, Sebastian partook in Meta Open Arts residency programme, where he made a site-specific photographic installation across three walls. More recently, in 2021, he was involved in a collaborative project between Meta Open Arts and Messenger in the making, and subsequent launching, of a 360 degrees augmented reality filter, titled 'Seeking Starlight'. Sebastian was awarded the Ngee Ann Young Promising Artist Award in 2022.
Numerous institutions invited Sebastian for talks and guest lectures in the past years; some of them include City of Glasgow College (UK), The Royal Scottish Academy (UK), Mount Florida Studios (UK), The University of the West of Scotland (UK), DECK (Singapore), Nanyang Technological University (Singapore), and Nanyang Academy of Fine Arts (Singapore). Sebastian is currently an adjunct lecturer at Nanyang Academy of Fine Arts, LASALLE College of the Arts, and Nanyang Technological University. His research interests and teaching areas include art history, contextual studies, art theory, contemporary art practice, philosophy, critical theory, photography history, photography theory, photography practice, black and white darkroom photography, and alternative lens-based processes.
Sebastian is based between Singapore and Korea; he is currently making works and preparing for exhibitions in Singapore. He is an elected Professional Member of The Society of Scottish Artists.