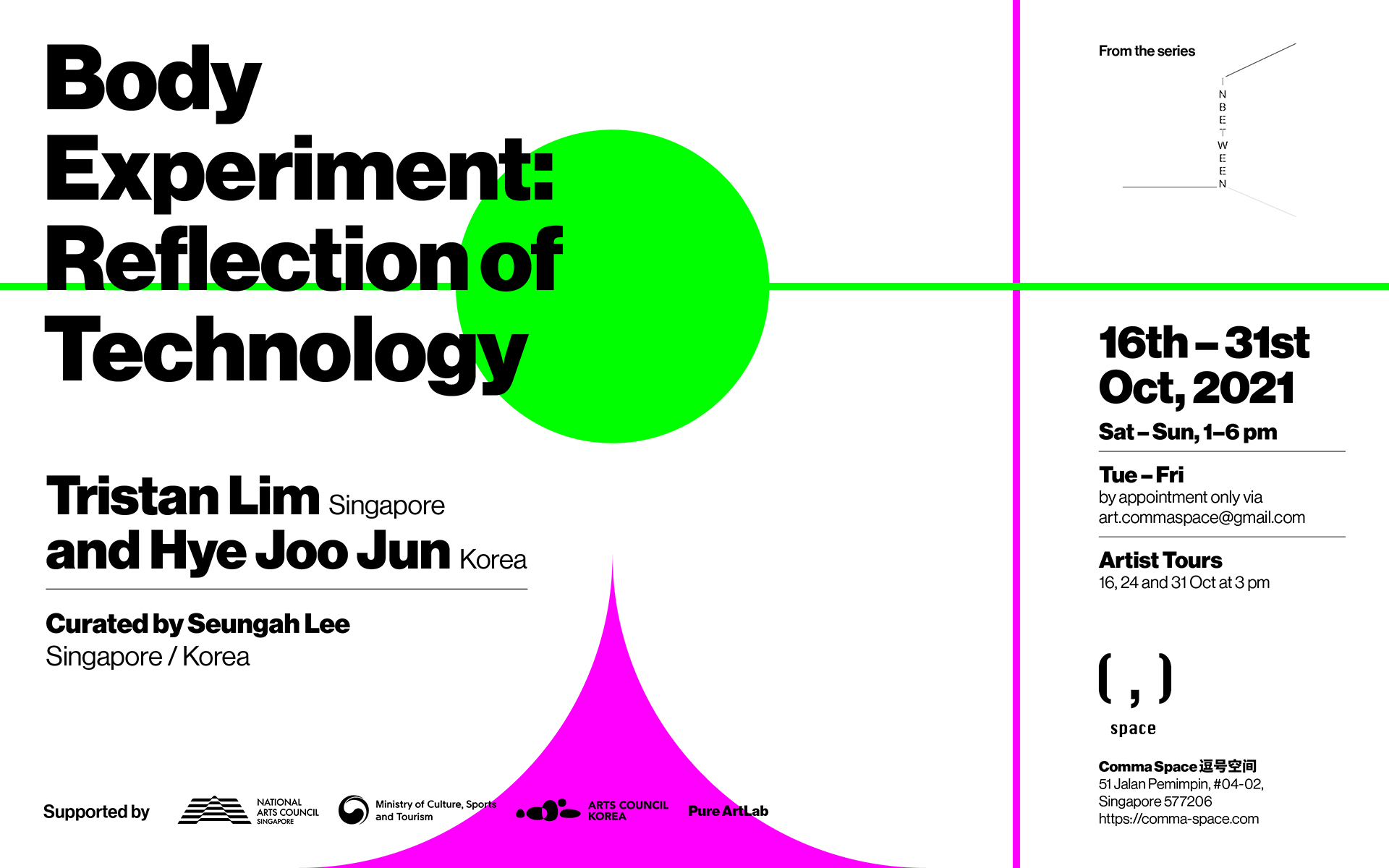 Body Experiment: Reflection of Technology
Hye Joo Jun (Korea) and Tristan Lim (Singapore) 
Curated by Seungah lee (Singapore/Korea)
Comma Space (Singapore) is pleased to present Body Experiment: Reflection of Technology, a group exhibition by artists Hye Joo Jun (Korea) and Tristan Lim (Singapore) curated by Seungah lee (Singapore/Korea).
The exhibition investigates the impact of technology in the present society through the human body. Hye Joo Jun's Body Check is a kinetic installation that audibly implements modern technology mechanism in exploring how invisible signals constantly affect people. Tristan Lim's Hallucigenia investigates the metaphorical notions of bodily entrapment in which a person is conscious but unable to move or speak. Using various technological applications, the exhibition inquires how technology has changed the human ecological environment and how we are to deal with it in the future.
This is the second project from the "INBETWEEN" series of Comma Space.
—
EXHIBITION DATES: 16 -31 Oct 2021  
Opening Hours: Sat and Sun 1-6 pm (including public holidays)
Mon – Fri (by appointment only  [email protected])
Artist tour: 16, 24 and 31 Oct 2021 3pm @ Comma Space book here
About the Artist:
Hye Joo Jun is an artist based in Seoul, South Korea. Based on her interest in urban space, she has been working on the idea of how the surrounding environment and time and space relate to each other, and the way and possibilities of works of art intervening in public places through multimedia such as videos and installations. She received an M.F.A., Art and Media, and a Meisterschüler, Art and Media, from Berlin University of the Arts, Berlin, Germany. She participated in a couple of residency programmes, including 2020 Seoul Art Space Geumcheon; Seoul Foundation for Arts and Culture, Seoul, South Korea; 2019 Gyeonggi Creation Center, Gyeonggi Cultural Foundation, Ansan, South Korea; and 2018 Incheon 、Art Platform, Incheon Foundation for Arts and Culture, Incheon, South Korea. Her major solo exhibitions include ≪Body Check≫ (Geumcheon Art Space PS333, Seoul, 2020), ≪Whirl≫ (Space CAN, Seoul, 2019), ≪Horizon 00:00:00≫ (Incheon Art Platform, Incheon, 2018), and she has recently participated in numerous domestic and international group exhibitions, including ≪Nothing Makes Itself≫ (ARKO Art Center, Seoul, 2021) and ≪Plantae≫ (Art Space BOAN, Seoul, 2020).
Tristan Lim is a visual artist whose practice questions the manner in which we perceive and value virtuality and reality in contemporary life. Examining the forms in which images, brands and visual materials circulate and manifest in culture, relationships between disparate things are uncovered, surfacing questions of material and existential significance. Having completed his Bachelor in Fine Arts (First Class Honours) from LASALLE College of Fine Arts in partnership with Goldsmiths, College of London, he has continued to practise as a fine arts artist, with his works shown in group exhibitions at Ota Fine Arts, The Arts House, Singapore Art Museum at 8Q and The Institute of Contemporary Art Singapore.
About the curator:
Seungah Lee is a curator, researcher and educator based in Seoul, South Korea. She received her BA degree in Fine Art at Ewha Womans University and MA degree in Cultural Studies (Interactive Media: Theory and Critical Practice) at Goldsmiths College, University of London, UK. She also completed her Ph.D course work in Media Design at Ewha Womans University, South Korea. She has curated experimental and international exhibitions as an independent curator at alternative space Space 15th, Hanbit Media Art Gallery and Total Museum of Contemporary Art. In 2015, she co-organised the Singapore Open Media Art Festival as a cultural event for the 40th anniversary of diplomatic relations between Singapore and South Korea. The festival was held at Gillman Barracks (Singapore), Total Museum of Contemporary Art, the Oil Tank Culture Park (Seoul, South Korea) and the Jordan National Museum (Amman, Jordan). She also worked as a chief researcher and educator for a couple of R&D projects in media art and multi-disciplinary contents. Her major exhibitions include Shift Signals, DIT Project, Yeosu International Art Festival, AI632, Media Anatomy, etc. She is currently working as a director of Urban Art Lab in Seoul and a creative director at spaceTYPE.